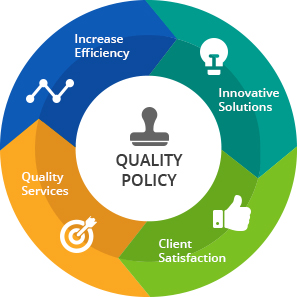 A quality policy is a brief statement that aligns with our organization's purpose and strategic direction, provides a framework for quality objectives, and includes a commitment to meet applicable requirements as well as to continually improve.
NO DISCRIMINATION
There is no discrimination in hiring, compensation, access to training, promotion, termination or retirement based on race, caste, national origin, religion, age, disability, gender, marital status, sexual orientation, union membership or political affiliation.
ZERO COST
According to our policy no one can take any costs from the candidates because our company will provide the job for the candidates without taking any cost it mean no cost.
NO CHILD LABOUR
Children/young person (Under 18) shall not to recruit as an employee. Companies shall develop or participate in and contribute to policies and programs which provide for the transition of any child found to be performing child labour to enable her or him to attend and remain in quality education until no longer a child; "child" and "child labour" being defined in the appendices.
PRACTICE 100% ETHICAL RECRUITMENT
Ethical recruitment is important for both recruiter and candidate because it build long-term relationships and a reputation for setting and maintaining high professional standards.
EQUAL OPPORTUNITY
It is our policy and intent of our company to provide equal opportunity to all qualified persons.
CONTINUOUS IMPROVEMENT
Both for our own professional development and for the services we provide our clients becoming an ever better version of ourselves is important to the very core of Delux HR. You are willing to learn, improve and innovate constantly.
ROLLING UP OURSELVES
No matter your level in the organization you are willing to drive in head first to get work done and support the team. No one is above lending a hand and ensuring what needs to get done to achieve success done.
TRANSPARENCY
We believe in being honest with our clients and with ourselves. You are willing to be open, trustworthy and trustful in all company dealing.
CREATIVITY
Our client rely on our ability to be creative to think outside of the box. And to deliver winning solution while you are at Delux HR you will strive to provide creative ideas and solution to satisfy clients and help our business grow.
EXCELLENCE
Our work is our art and you will demonstrate attention to detail pride and the highest quality behind every client and each company project we work on.
EXPERIENCES
Learning by experience is the way we grow we shouldn't be afraid of failure if we are trying learning and moving forward. You will push yourself to try new things bath personally and professionally and share lessons learned with your peers.
Deluxe HR Solutions policies may change at any time and staff employees etc. expected to comply with the most current vision to the
extent this hand book conflicts with any applicable company policy, the policy will govern. If you have questions concerning this handbook or a policy consult your MD for clarification.