NEPAL is located in south Asia sharing borders with India and China. Kathmandu is the capital and largest metropolitan city of Nepal. Known of extensive natural beauty with the iconic Himalayan including highest peak in the world, Mt. Everest (8848 meters), it is a world in itself. Nepal is a country of highly diverse and rich geography, culture, religion and offers a wide variety of adventure tourism destinations. Of the 14 peaks above 8,000 meters in the world eight are located in Nepal. Nepal is also the birth place of Lord Gautama Buddha. It should also be noted that Nepal is second largest country in the
world in water resources.

The weather and climate varies from hot summers to severe winters. Nepal has varieties of lands as it has weather and people. The land starts from 70m from sea level from Kanchan Kalan in Terai and passes though hilly region to the world's highest point Mount Everest at 8,850 m.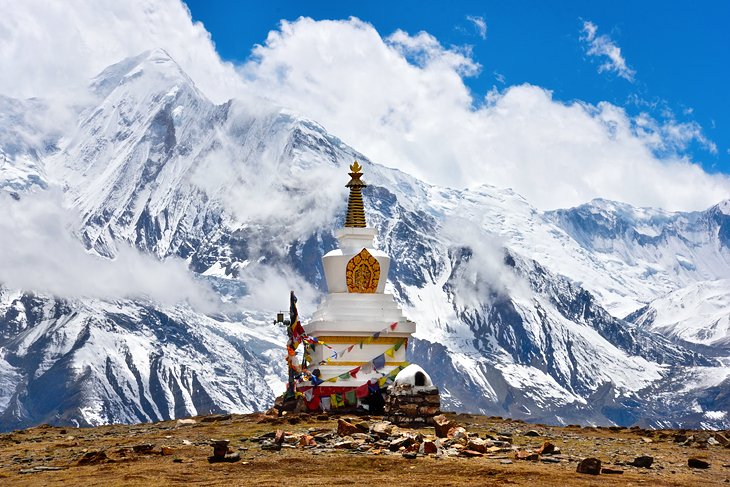 LOCATION : Between China in North and India in East, West and South.
LATITUDE/LONGITUDE : 26°22' and 30°27' North. /80°4' and 88°12' East.
AREA : 147,181 sq. KM. (800 KM in length and 200 KM in width approx.)
CAPITAL : Kathmandu [Kathmandu is the capital city of Nepal with a valley surrounded by four beautiful hills -Fulchowki, Chandragiri, Shivapuri and Nagarjun.]
POPULATION : 30 million approx.
PEOPLE & LANGUAGE : About 60 ethnic groups. Most of them have their own and distinct cultures, traditions and languages. Nepali is official languages. Nepali is official language whereas all language spoken within Nepal are termed as national language.
CURRENCY : Nepalese Rupee (US $ 1= Rs.100 approx.)
RELIGION : 80.62% Hindus, 10.74% Buddhists, 4.20% Muslims and rest Kirants, Jains and Christians living harmoniously.
CLIMATE : Nepal has four seasons: 1. Winter (Dec – Feb) 2. Spring (Mar-May) 3. Summer (June – Aug) 4. Autumn (Sep-Nov). Nepal can be visited throughout the Year. However, the period between September to June are the best one.
NEPAL STANDARD TIME : 5 hour and 45 minutes ahead of GMT